July 11, 2016
Difficult conditions for the Hobie® 16 in Scharbeutz and again Detlef Mohr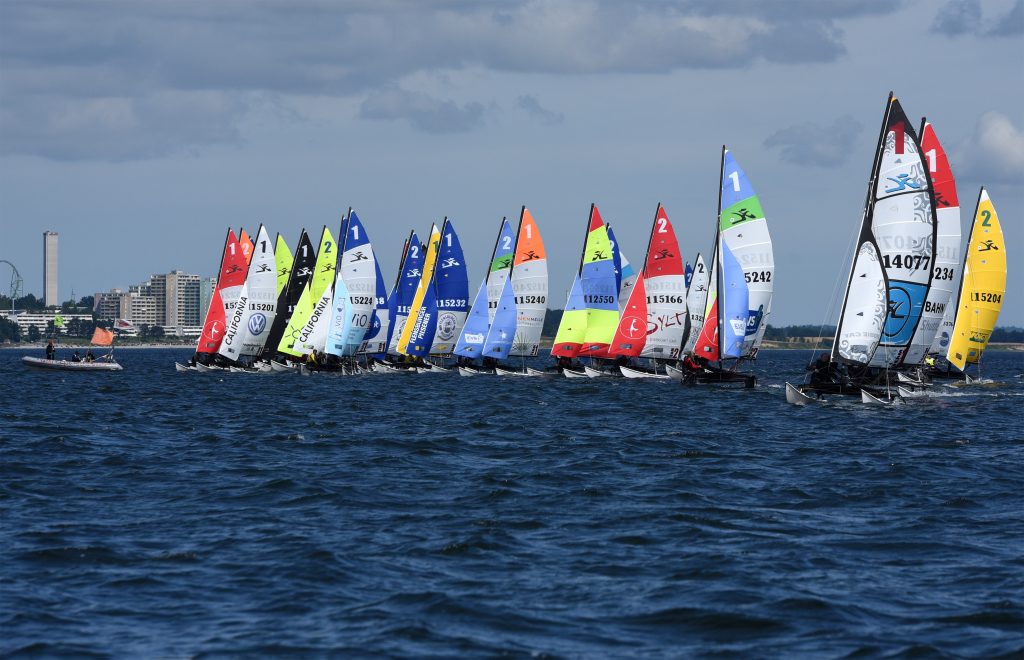 It was a sportive weekend for the Hobie® 16 in Scharbeutz. The best Hobie 16 sailors from Germany came together at the Super Sail Tour. The races, which were held this year for the 5th time in Scharbeutz, had a lot to offer. The visitors noticed on closer inspection, that there were not only German participants, also the top sailors from Denmark had arrived with several boats. Among other things Josephine Frederiksen, the current World Champion. Unfortunately, her helmsman Daniel Björnholt, they've won together the World Championship 2016 in China, had to cancel for health reasons. Without further ado, she organized the Australian Meagan Bursa as crew and herself took over the helm.
On Saturday all 4 scheduled races could be sailed. The weather conditions were not easy to handle for the sailors. Wind speed of 14 knots and gusts over 20 knots, wind shifts that could quickly put a boat from the first places to the last places. Jens Reimers and his daughter Nina were getting better every year and on Saturday they were only 1 point behind Detlef Mohr / Karen Wichard on 2nd place. "Last year we were already making good progress, but this year we are also really fast. Maybe it is because we were able to reduce our team weight, "said Jens Reimers on Saturday.
For Sunday 3 races were sailed. The wind was still difficult to assess, the gusts were still sudden, so that there were a lot of capsizes. However, Sunday was the day of Lauritz Bockelmann with crew Kim Liedtke. At the end, they've won all three races. Yet it was not enough for the top places, because they had one BFD and one OCS on Saturday.
So at the end the old master was again on the podium. Clear winners were Detlef Mohr / Karen Wichard starting for Kellenhusen with 8 points ahead of Stefan Wiese-Dohse, with his longtime crew Susanne Gehrmann sailed on 2nd place before Jens and Nina Reimers.
"7 races, challenging wind conditions, 37 Hobie 16, always sun and great interest of the numerous visitors at the pier, from which we had live moderation of all races, plus a lot of fun ashore," concluded Jens Hannemann, press manager for the Super Sail Tour. "The next stop of our Super Sail Tour is now in Kellenhusen next weekend."
Medien & Marketing – Jens Hannemann