October 27, 2015
All action in preparation for Brazil Hobie Championships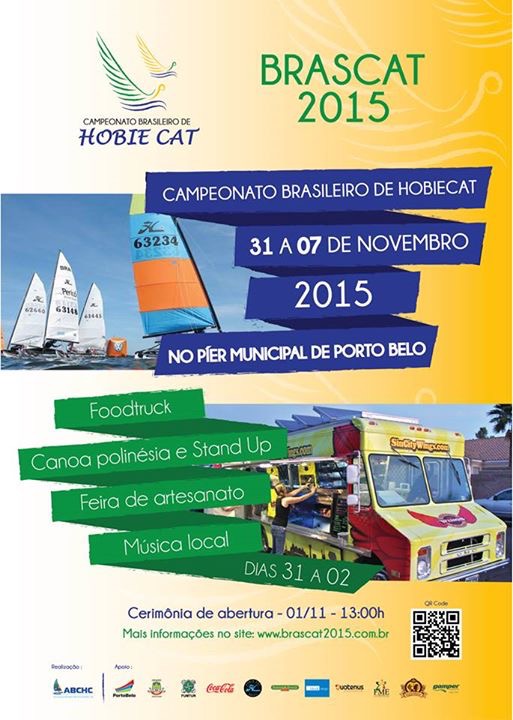 With less than a week to go before the first warm-up regatta, competitors in the 2015 Hobie Cat 14 and Hobie Cat 16 Brasilian National Championship regatta have started to arrive in Porto Belo, Santa Catarina. The first sailor to arrive was Mario Dubeux, with his crew Nirvana. Mario also brought Graziela, who will start practicing with her skipper, Wilson of Aracaju, Sergipe on Saturday. 10 days ago, an "18 wheel" truck left Fortaleza, in the state of Ceara, in the Northeast of Brasil with a half a dozen boats. The driver will make stops in various cities along the route to Porto Belo, including Recife, Joao Pessoa, Aracaju, Salvador, Vitoria, e Rio de Janeiro. At each stop, he will pick up at least one more boat that will participate in the regatta. More than 10 days nearly 5,000 kilometers later, the truck will arrive in Porto Belo, Santa Catarina.
As of today, more than 60 teams have registered for the regatta. Event organizers expect up to 10 more boats to participate in the week long regatta, including Hobie Cat 14 and Hobie Cat 16 classes. We expect teams from Brasilia, Porto Alegre, Sao Paulo, Rio de Janeiro, Vitoria, Salvador, Aracaju, Joao Pessoa, Recife, Fortaleza, Florianapolis, Joinville, Porto Belo, and others.
Here in Porto Belo, we have suffered with nearly a month of Spring rain. We are looking forward to sky clearing in the next few days. Currently, winds are lighter than normal and out of the South.
You can learn more about the regatta at www.brascat2015.com.br
Also, you can learn more about Brasilian Hobie Cat Racing at the site of the Brasilian Hobie Class Association – www.abchc.com.br
Follow us at #hobiebrasil